Welcome to the website of Marching New Zealand
Marching New Zealand (MNZ) is the national sports organisation for the administration and development of marching activities in New Zealand.
Marching for sport, leisure and recreation is an activity with embryonic beginnings in New Zealand.
Marching in New Zealand is an amateur sport that offers participants a strong sense of team spirit and self-discipline. It heightens powers of concentration and physical fitness, encourages good deportment, pride in grooming and personal achievement and offers musical enjoyment, life long friendships and opportunities of travel.
Want to know more about local marching activities in your local region - contact the Association in your area
View our video "Marching, The Kiwi way to keep fit".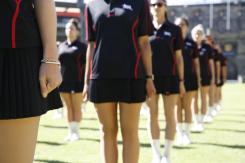 Read a recent article by Radio New Zealand
"March from the Past" and watch the video
on marching here.
Save
Save
Save
Save
Save
Save
Save
Save
Save
Save
Save
Save
Save
Save
Save
Save
Save
Save
Save
Save
Save
Save
Save
Save
Save
Save
Save
Save
Save
Save
Save
Save
Save
Save
Save
Save
Save
Save
Save
Save
Save
Save
Save
Save
Save